Cambridge English: Young Learners courses are a series of fun and engaging activity-based English language courses. They introduce primary and lower-secondary level students to everyday written and spoken English, and are an excellent way to gain confidence and improve their English.
Our courses cover the four language skills: Reading, Writing, Speaking and Listening. Students will move through the three levels: Starters, Movers and Flyers. These courses are designed for students aged 7 to 15 years.
How It Works
Learning Material
Course Fee
Schedule
How it works:
Visit us at No. 98-2, Jalan Pendidikan 5, Taman Universiti, 81300 Skudai, Johor
2. or Call/WhatsApp us at 011 2080 0518
3. Register your child for the class.
4. Your child will undergo a placement/diagnostic test to determine his/her level.
5. Purchase Materials for the relevant levels. ( We use official Cambridge Material – see below)
6. Attend the classes/lessons.
7. Once your child completed his/her material, he/she can either sit for the relevant Cambridge Examination or continue to the next level.
---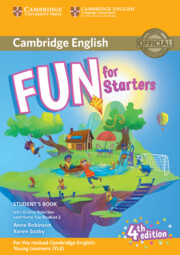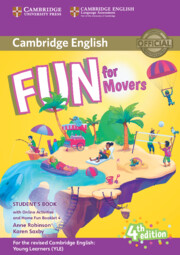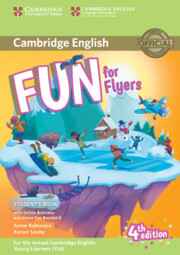 Fun for Starters, Movers and Flyers Student's Book provides full-colour preparation for Cambridge English: Starters. Fun activities balanced with exam-style questions practise all the areas of the syllabus in a communicative way and support young learners in the areas they find most difficult. Listening material to accompany the Student's Book is available online for download or as a separate Audio CD. Grammar and vocabulary activities get students practising online in their own time via an access code in the book. The Home Fun Booklet allows students to practice vocabulary at home.
This is a well-loved course for young learners all over the world. It is fully in line with the revised Cambridge English: Young Learners syllabus.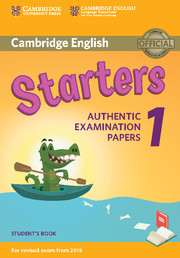 For those who want to sit for the Cambridge English Test: Authentic examination papers for learners preparing for the revised Cambridge English: Young Learners from 2018.
These examination papers for Cambridge English: Young Learners provides ideal exam practice. Each set contains three full-colour test papers which contain engaging activities and attractive illustrations to motivate young learners. These papers also provide an excellent opportunity for children, parents and teachers alike to familiarise themselves with the format of the revised test. There are three sets of tests for each of the three levels: Cambridge English: Starters, Cambridge English: Movers and Cambridge English: Flyers. Each set consists of a Student's Book with three full-colour tests, a Class CD, and an Answer Booklet.
Key features
Contains three official tests for each level of Cambridge English: Young Learners so that students and teachers know exactly what to expect on test day.
The full-colour test papers contain engaging activities and attractive illustrations to practise in a way which motivates young learners.
The Answer Booklet familiarises teachers with the test and marking scheme, and contains an overview of the relevant test, a comprehensive key, examples of the type of interchange to expect in the Speaking test and a vocabulary list.
---
Course Fee: ( the cheapest Cambridge English Lesson anywhere in the world!)
RM 25 per lesson (1 and a half hour)
Monthly fee: RM100 (once a week for 1 and a half hour each session: up to 4 sessions). Replacement classes for non-attendance available.
Books at retail price.
Promotion for Nov & Dec: Pay for 10 lessons and get 1 lesson free.
---
Schedule:
Monday: 2 pm to 3:30 pm; 3:30 pm to 5 pm; 5 pm to 6:30 pm, 6:30 pm to 8 pm
Wednesday: 2 pm to 3:30 pm; 3:30 pm to 5 pm
Thursday: 2 pm to 3:30 pm; 3:30 pm to 5 pm; 5 pm to 6:30 pm; 6:30 pm to 8 pm
Friday: 9 am to 10:30 am; 10:30 pm to 12:00 pm; 1 pm to 2:30 pm; 2:30 pm to 4:00 pm
---
Call/WhatsApp us Now at 011 2080 0518
Visit us at No. 98-2, Jalan Pendidikan 5, Taman Universiti, 81300 Skudai, Johor